NEW ORLEANS, La. (WDSU) — The New Orleans Police Department addressed the use of tear gas at protests on the Crescent City Connection on Wednesday night.
The NOPD held a news conference at 11 a.m. Thursday to address the decision on the use of the gas.
According to NOPD Superintendent Shaun Ferguson, officers blocked the bridge to keep citizens safe.
He said some people became agitators and tried to push their way past the barricade.
"They took the bait," Ferguson said, in reference to his warning about outside influences trying to incite violence in the city.
According to Ferguson, the main agitators who began the chaos were not arrested. He stressed that these people start the chaos, and once it ensues, they retreat, which is why he begs them not to take the bait.
According to Ferguson, five people were arrested. Three people were from New Orleans, one person was from Belgium, and another was from Massachusetts.
The protesters made their way onto the expressway after marching from downtown New Orleans, Uptown and back downtown toward the on-ramp of the expressway.
New Orleans police confirmed late Wednesday evening the use of tear gas on the crowd.
"However, tonight we were compelled to deploy gas on the CCC in response to escalating, physical confrontation with our officers," NOPD said on Twitter.
Escalation and confrontation hurts us all. NOPD is committed to respectful protection of our residents' First Amendment rights. However, tonight we were compelled to deploy gas on the CCC in response to escalating, physical confrontation with our officers.

— NOPD (@NOPDNews) June 4, 2020
After the gas was released, protesters peacefully began making their way back down the expressway and into the city.
According to the NOPD, three orders were given to not try to walk across the CCC.
BREAKING: 'They chose to use force, asking the men to step forward, they wanted to have a confrontation. They then attempted to force their way through our lines.' @wdsu https://t.co/VDiyihPxmO

— Travers Mackel (@TraversWDSU) June 4, 2020
The ALCU of Louisiana responded to the tear gassing of demonstrators:
"We are dismayed and horrified by the violent and unlawful deployment of tear gas against demonstrators after a week of peaceful protest in New Orleans," said Alanah Odoms Hebert, ACLU of Louisiana executive director. "This excessive use of force against protesters exacerbates the pain and anguish of Black communities, imperils public health, and infringes on people's fundamental right to make their voices heard. We demand an immediate, independent investigation of this incident and a complete halt to chemical warfare against protesters and journalists. This is a moment of reckoning for our country and our community – and New Orleans officials must commit themselves now to ending the violence and brutality that has claimed countless Black lives and continues to inflict devastating harm on our communities." 
Mayor LaToya Cantrell said in a statement,"Escalation and confrontation hurt us all."
We want you to be heard. We need you to be safe. We must hold on to what has gotten us this far— peaceful protest, restraint and respect. None of us wants this to escalate. The only way out is through and we will get through this together. Please, go home, be safe.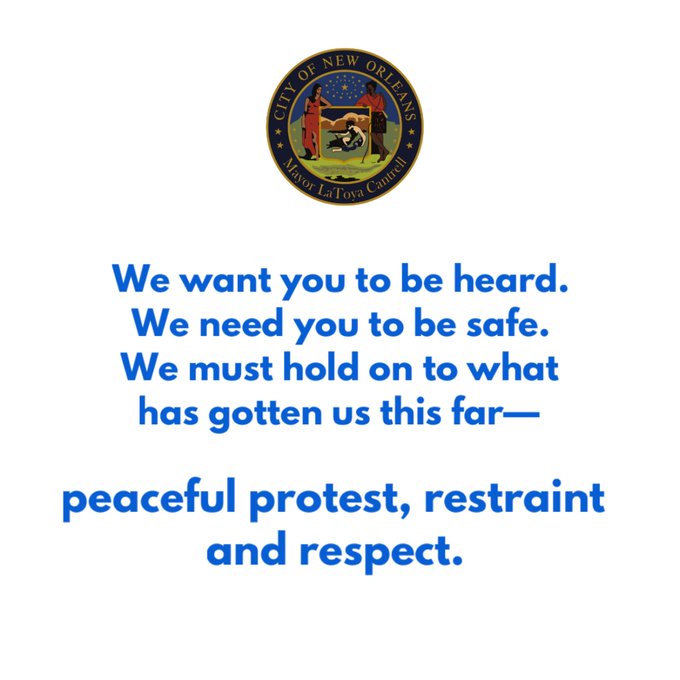 Wednesday was the first night the demonstration escalated between the crowds and NOPD.
The protests have been starting at Duncan Plaza every night since last weekend.
By: WDSU Digital Team