A new generation of Volkswagen's California camper van based on the automaker's T-series of vans sold overseas is in the works, and a concept revealed this week hints at what's to come.
The California concept made its debut on Thursday at a caravan show in Düsseldorf, Germany, and is based on the stretched version of VW's latest Multivan.
VW has confirmed a production version for launch in 2024, in markets where the regular Multivan is offered. Prototypes have already been spotted testing.
While the U.S. isn't on the list of markets, some of the new California's features may end up on a similar ID.California, which is being developed on the basis of the ID.Buzz electric van that finally starts sales in the U.S. next year as a 2025 model.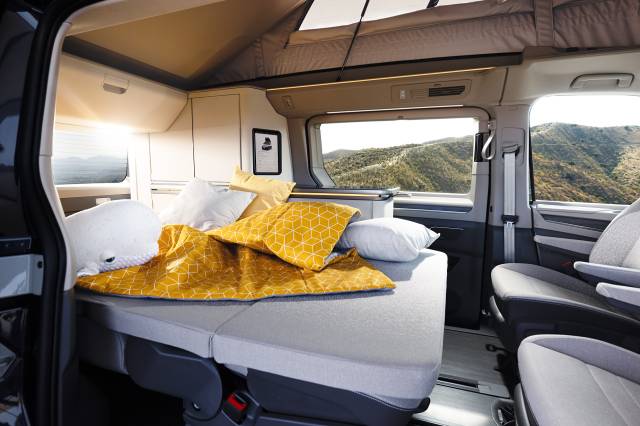 Volkswagen California concept
The California concept previews a new pop-up roof, which is a signature of VW's California camper vans. It features aluminum construction and has large windows to give a superb view of the great outdoors.
Moving to the cabin, the concept has sliding doors on both sides of the vehicle, which is a first for a California. This enables extended use of the space around the vehicle, thanks also to extendable shades on both sides. A removable tablet screen can be used to control many of the van's features remotely.
A kitchen is fitted inside and the front seats can rotate 180 degrees to create a lounge-like experience. The rear seats fold flat, leaving space for a bed. There isn't a shower, but there's space inside for a removable dry-composting toilet.
While the California has traditionally been based on VW's T-series of midsize vans that date back to the original Microbus, VW has also launched California versions of its smaller Caddy van and bigger Crafter van in recent years, the latter dubbed the Grand California. Soon the ID.Buzz will join the list, which is fitting since the ID.Buzz is the spiritual successor to the original Microbus.
Related Articles