NEW ORLEANS (WDSU) — The man who helped bring the Lower Ninth Ward community its first grocery store since Hurricane Katrina is once again, showing the kindness of his heart.
Burnell Cotlon's Lower Ninth Ward Market is an essential business to the neighborhood. People always come to get the things they need.
"Some people come in here and cry. Some people say, 'You're the grocery store guy. Thank you so much. It means a lot.' (It's) something simple as having a place where you can walk to get fresh fruits, veggies or a loaf of bread to feed your family," Cotlon said.
Lately, Cotlon said some of his every day shoppers have had a hard time buying the necessities because of the COVID-19 pandemic.
Some, he said, lost jobs and can't pay for groceries right now. So Cotlon said he will give them away. He said his grocery store has turned into a food pantry of sort.
While Cotlon said he's blessed to give, doing so put him back about $3,000. He was late on his mortgage for the first time and was struggling to stay afloat.
That's until a complete stranger heard of his efforts and started a fundraiser to help out. As of Tuesday afternoon, more than $186,500 was raised for Cotlon through a Go Fund Me.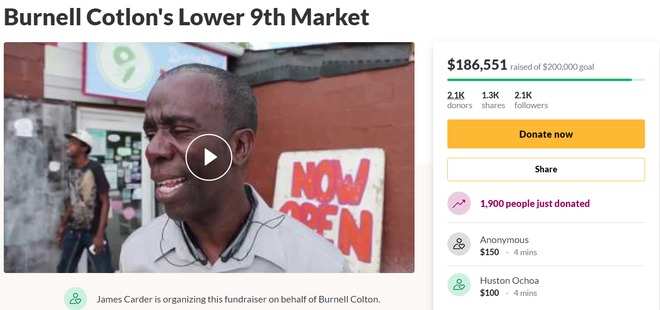 "I am so grateful because I never thought, in 1,000 years, that would've happened. To everyone that's donated to me, or wants to donate, thank you from the bottom of my heart because it's definitely needed," he said.
Click here to donate to Burnell Cotlon's Lower Ninth Ward Market.
By: Christina Watkins