NEW ORLEANS (WDSU) — The New Orleans Saints are ready to get back on the field in the fall.
The city's NFL organization sent out a statement Tuesday after Mayor LaToya Cantrell's comments about whether festivals that were postponed due to COVID-19 would even be able to return in the fall.
Cantrell was also asked about the upcoming Saints season, for which she said a decision would have to come from the NFL and the Saints based on the COVID-19 situation.
"We are preparing to play and we are being very proactive in working with health care professionals, our medical staff and both the NBA and NFL. In addition, we are in constant contact with local and state government," said Greg Bensel, senior vice president of communications and broadcast for the Saints and the New Orleans Pelicans.
Bensel added that when the Saints return in the fall, "our highest priority will be the health and safety of our fans, staff, players and coaches. It is what we need to do and are doing relative to planning to play and we will be ready."
"And considering the economic and cultural significance of the Saints, we are working to do everything in our power to make it work. It's too important for our city," Bensel said.
Bensel also spoke on behalf of the Pelicans, the city's NBA team which has been under the league's indefinite hiatus since the COVID-19 crisis began.
Cantrell said that she has been in discussions with festival organizers as the city continues to deal with the COVID-19 health crisis. She said during a briefing Tuesday that she is recommending organizers instead focus on returning to their normal schedules in 2021.Fletcher Mackel✔@FletcherWDSU
Statement regarding @Saints and @PelicansNBA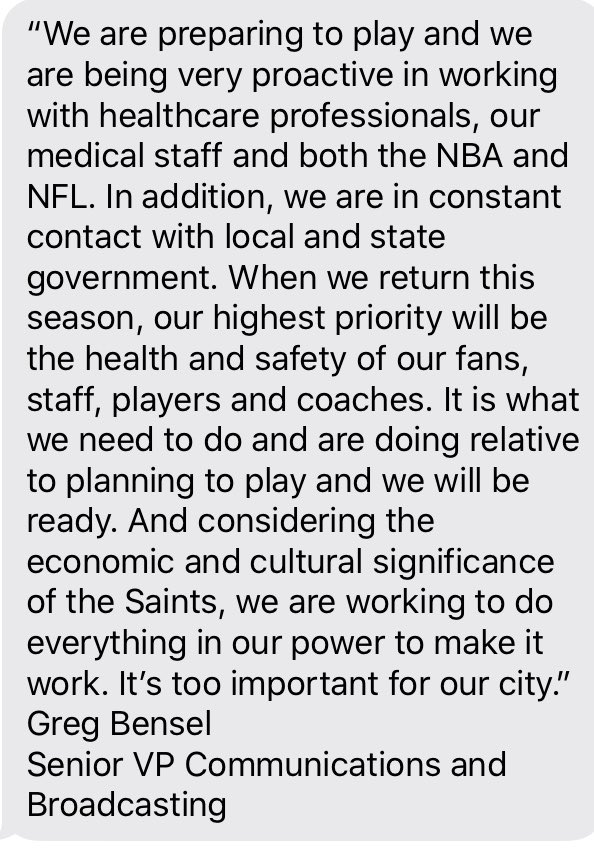 156 · New Orleans, LATwitter Ads info and privacy52 people are talking about this
Events like French Quarter Festival, Jazz Festival and Essence Festival have signaled their intent to return in the fall. None of the organizations have issued statements on further delays.
By: WDSU Digital Team