Create the organized pantry you've always wanted with this 20-piece set
From big family meals to batches of cookies, the kitchen sees a lot more use during the holidays. Instead of digging for missing ingredients or discovering that a can of green beans is expired, take the time to implement an organizational system before the holidays get hectic. Organizing experts love the popular Snapware Total Solution Food Storage Set, and just in time for the holidays, it's on sale for Amazon Prime members, making it a great Amazon deal that can help bring you some peace of mind in the kitchen.
Shop this article: Snapware Total Solution 20-Piece Food Storage Set, Progressive Prepworks ProKeeper 6-Piece Kitchen Storage Set, Glasslock 18-Piece Assorted Oven-Safe Container Set
How to organize your pantry
No matter how large or small your pantry is, it can easily become a place of clutter and confusion. Storage bins and baskets can help, but the best way to get and stay organized is to be realistic about your cooking and shop appropriately. Your pantry will be less cluttered, you'll reduce food waste and your wallet will be happier, too.
Start from scratch
The first step to getting your pantry organized is knowing what you have. Begin by emptying out the pantry and wiping down your shelves. Throw out anything that's expired and sort out what you're still using into categories, such as snacks, breakfast, baking and condiments.
Choosing food storage containers
Choose clear food storage containers and bins, which will help you keep track of what you have and what needs to be used up. If you're working with a particularly small space, containers that nest or stack can help you stay organized in a smaller footprint.
Food storage containers are widely available in both glass and plastic. Plastic containers are lighter and generally more durable, but they're also more likely to absorb odors or colors from the food stored in them. If you go with plastic, look for containers that are free from harmful chemicals like bisphenol A (BPA).
Buy dry goods in bulk or transfer food from its original packaging into storage containers. This can help you maintain a cohesive look while also letting you more easily monitor your supply levels. If you want, use a label maker or reusable chalkboard labels to designate your bins and containers. Not only will they look nice, the labels will help everyone in the household know where things go.
Strategic pantry organization
As you put food away in the pantry, think about what gets used most and designate zones for proper storage. For example, if there are kids in the household, store their essentials on lower shelves where they can easily reach and help themselves. Baking items, such as flour, sugar and cake decorating supplies might make up another zone, while quick breakfasts or lunches might get their own shelf sections.
How to keep your pantry organized
Developing an organizational system is one thing. Maintaining it is another. Take small steps throughout the year to keep your food fresh and your pantry looking inviting.
Once a month, check for expired items or open packages that have gone stale. Get rid of candy from bygone holidays and check expiration dates for items such as condiments and spices, which can have short shelf lives.
Give your pantry some special attention during spring cleaning by taking everything out, cleaning down the shelves and vacuuming the floor. If you have duplicate or unopened nonperishables that you don't need, consider donating them to your local food bank.
Best food storage sets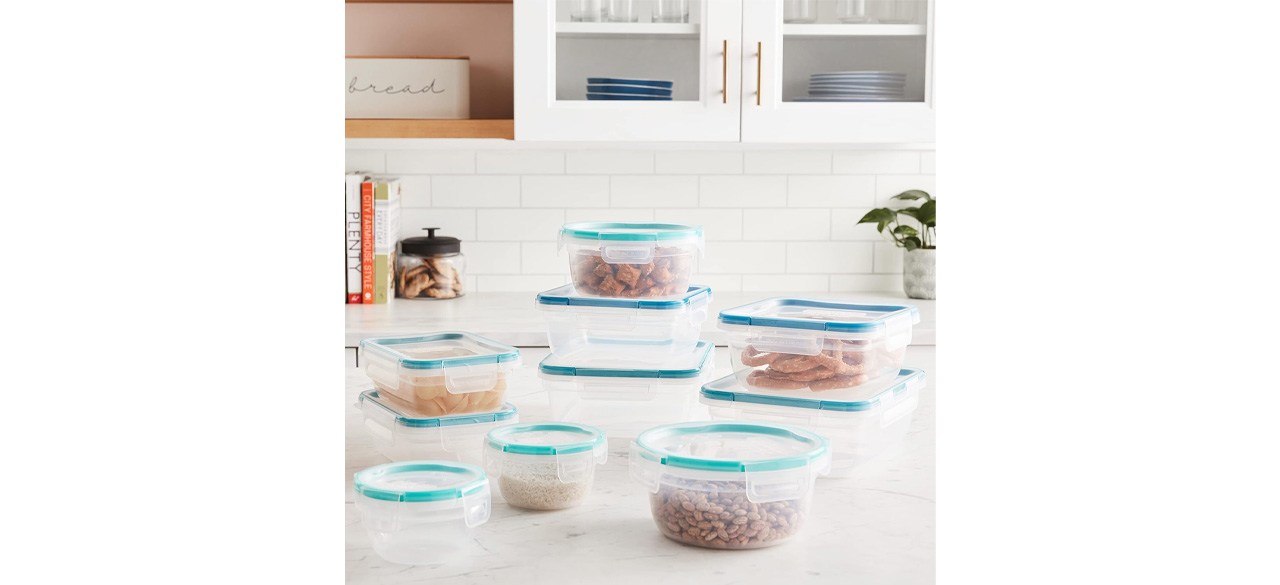 Snapware Total Solution 20-Piece Food Storage Set
Store dry goods in this comprehensive set of BPA-free plastic containers and lids. The set includes round and rectangular containers ranging from 1.2 to 8.5 cups, each with a corresponding leakproof, locking lid.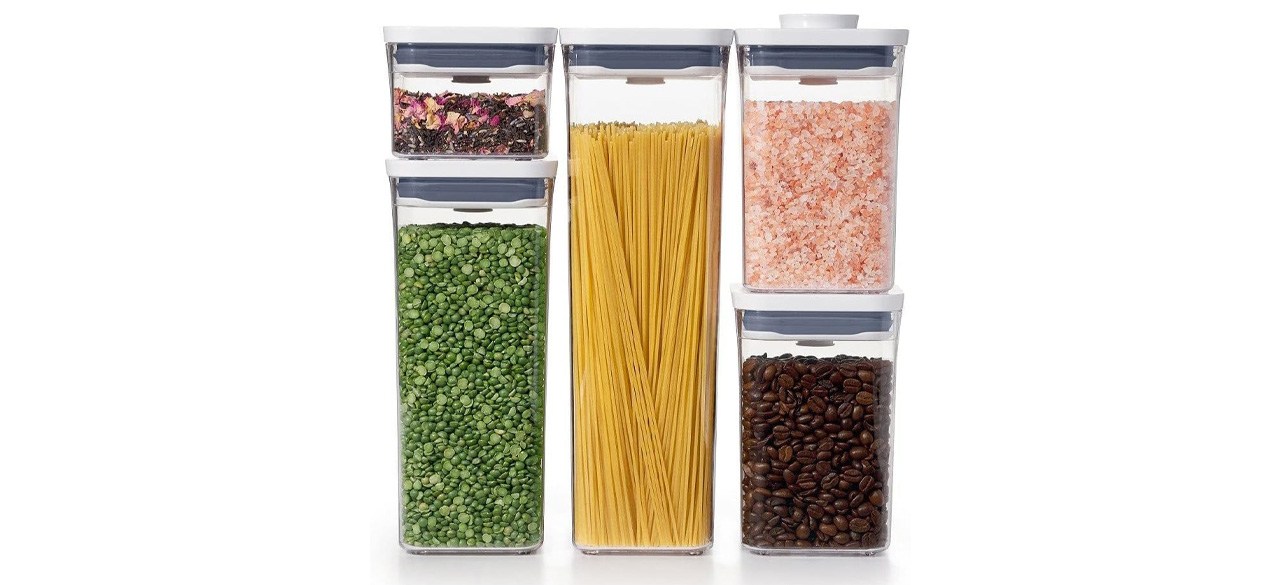 OXO Good Grips 5-Piece Pop Container Set
Cooks and organizers alike love this OXO line for keeping bulk dry goods organized and sealed thanks to lids that seal airtight at the push of a button. The five plastic containers in this set range from 0.4 to 2.1 quarts, making them big enough for flour, spaghetti and more.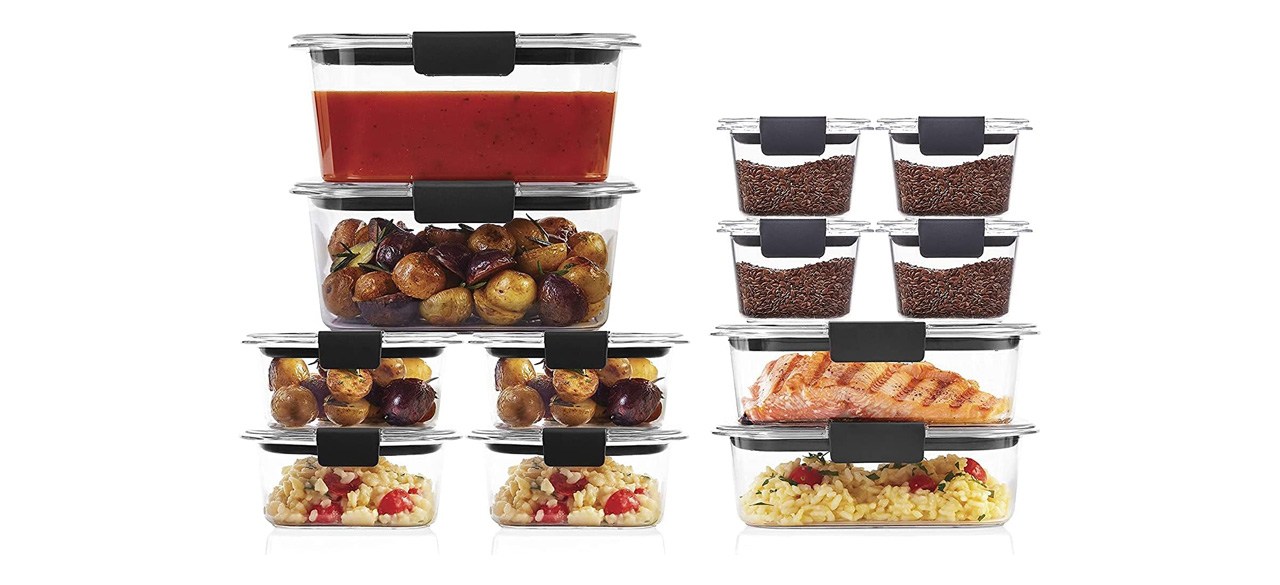 Rubbermaid Brilliance 24-Piece Food Storage Container Set
These durable, BPA-free plastic containers are crystal-clear so you can easily see what's inside. The Triton plastic is also stain- and odor-resistant so the containers look new for longer. Built-in vents under the lids' latches help make microwaving less messy.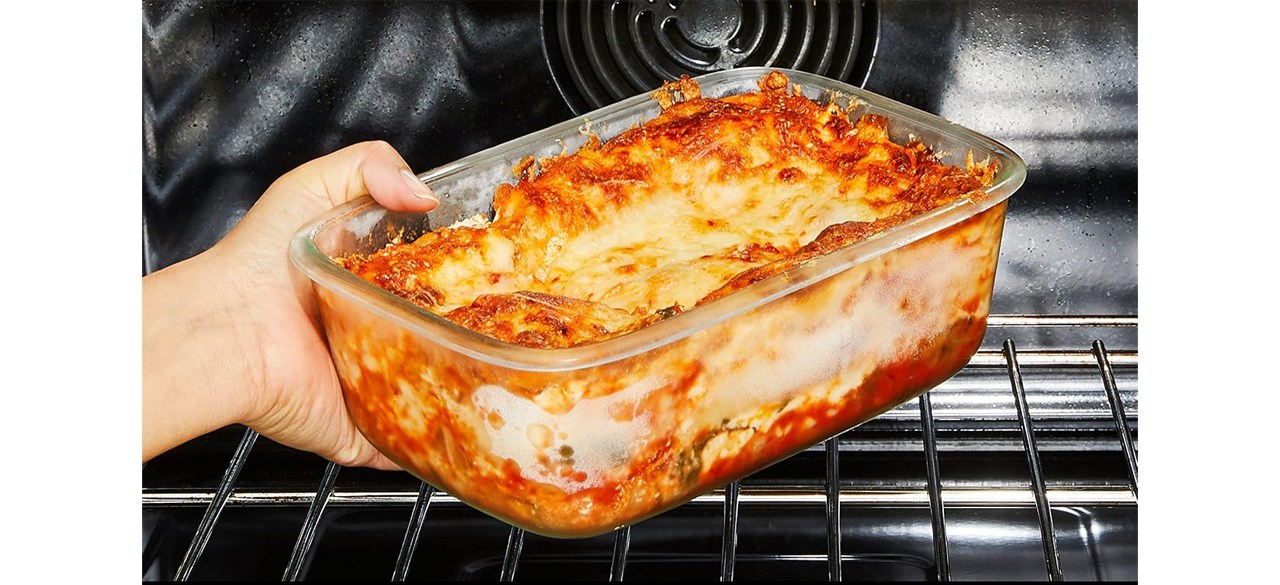 OXO Good Grips 16-Piece Glass Smart Seal Container Set
Made from borosilicate glass, these containers can go from freezer to oven without shattering. The set includes round and rectangular containers in five different sizes, each with a locking and leakproof BPA-free lid.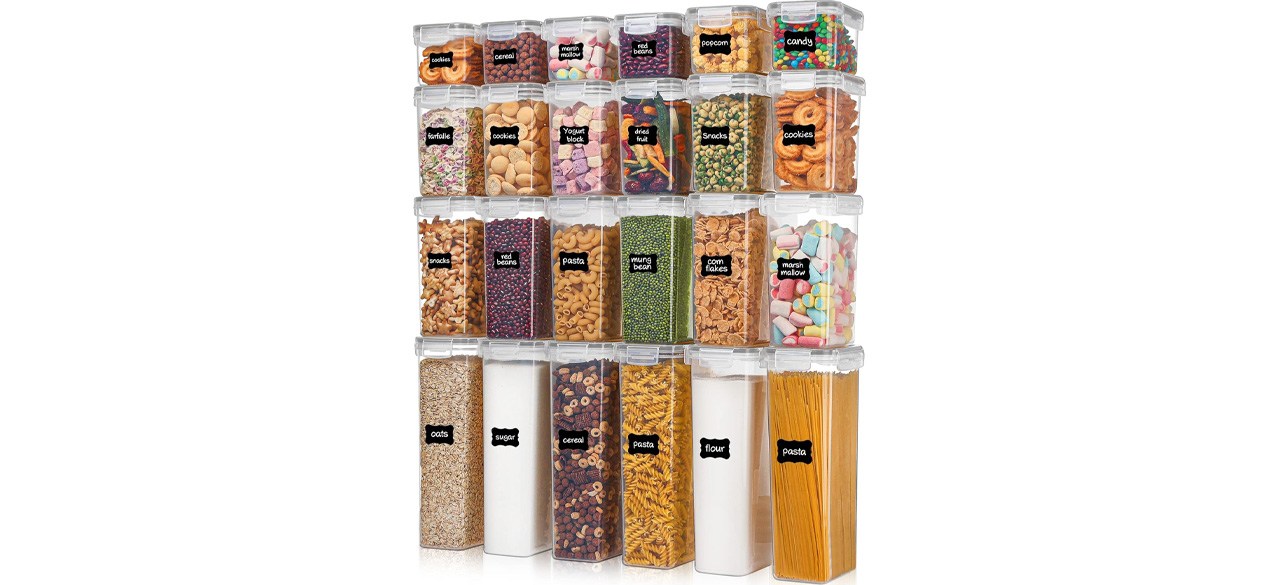 Vtopmart Airtight 24-Piece Food Storage Container Set
These rectangular, stacking plastic containers all have the same footprint and come with locking lids. The airtight lid seals are available in black or gray. The set also comes with reusable labels to help your pantry look even more organized.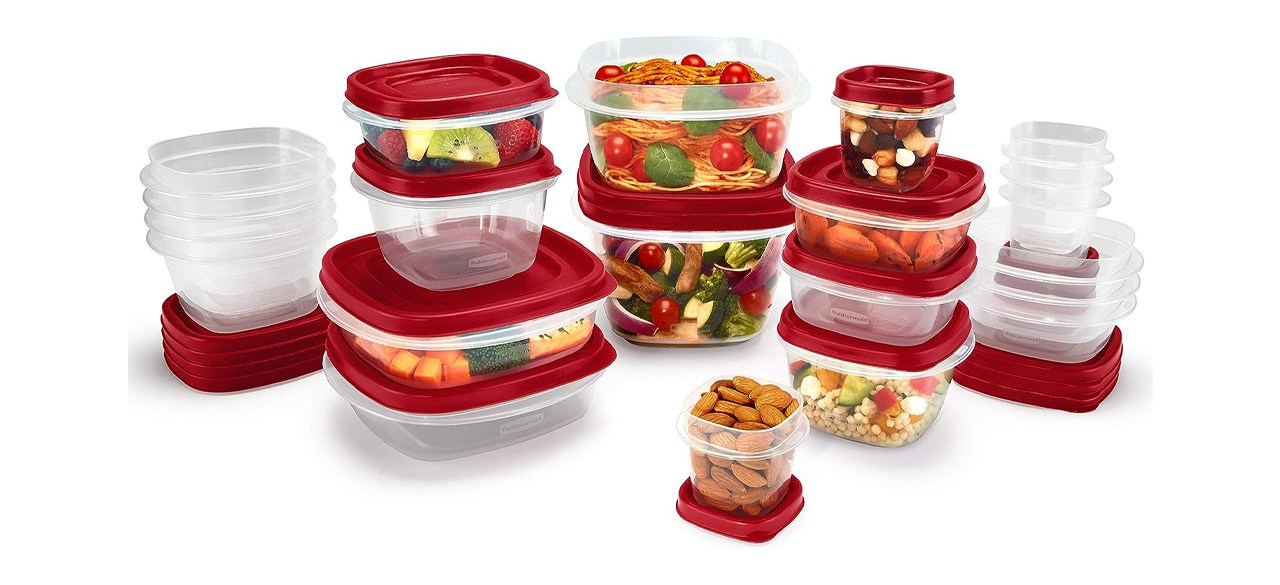 Rubbermaid 24-Piece Food Storage Container Set
With 21 different plastic containers and matching lids, this budget-friendly set can keep plenty of food organized. The lids and bases snap together for more tidy storage, and the lids vent to prevent splatters in the microwave.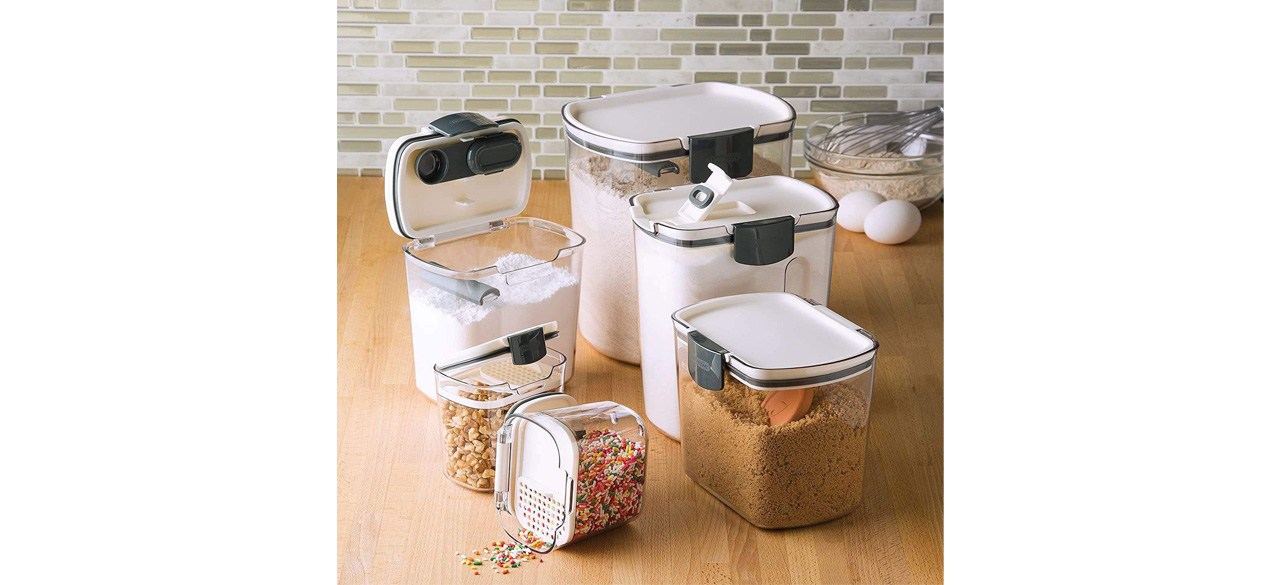 Progressive Prepworks ProKeeper 6-Piece Kitchen Storage Set
Planning on a lot of holiday baking? Organize your pantry with these specialized stacking plastic containers. They offer clever features, such as pour spouts, a flour level and even a terra-cotta dish to keep brown sugar fresh.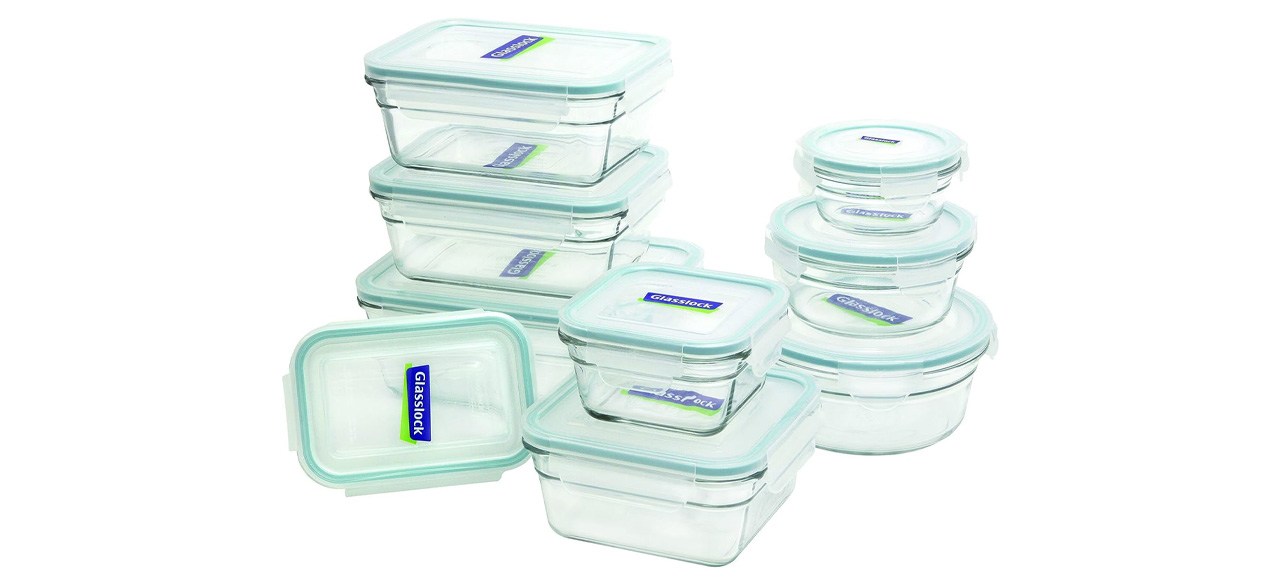 Glasslock 18-Piece Assorted Oven-Safe Container Set
Streamline food prep, storage and cooking with these glass containers, which can safely go in the microwave or oven. Choose from two colorways for this set, which includes a variety of round and square containers that can hold up to 6.3 cups.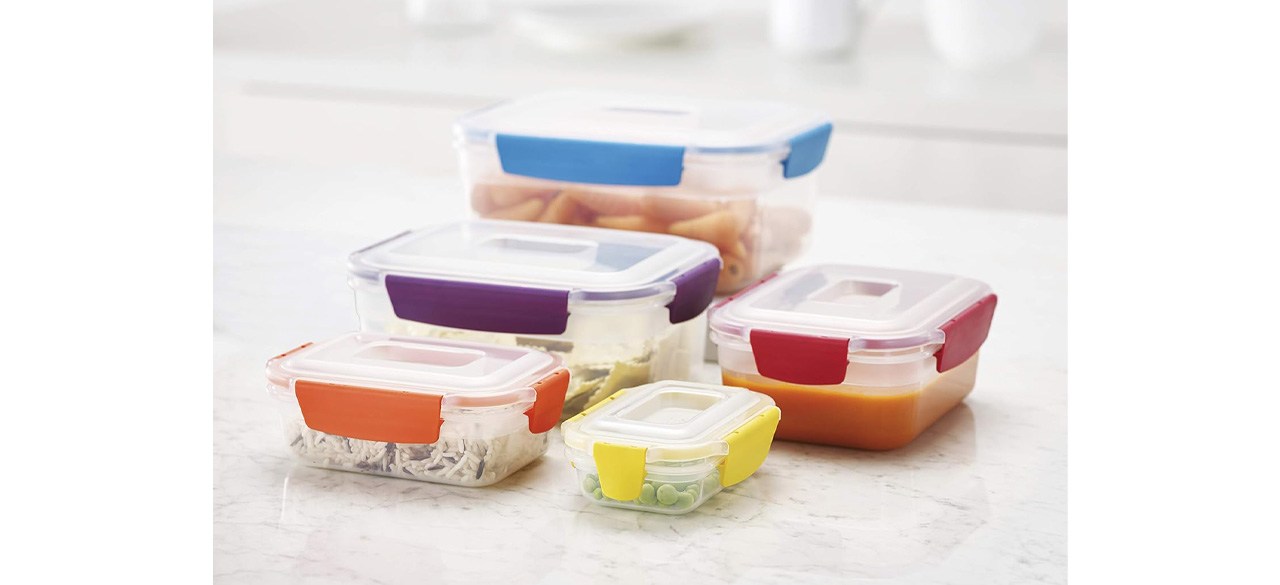 Joseph Joseph Nest 10-Piece Lockable Food Storage Container Set
Each rectangular, BPA-free container in this set comes with its own colorful locking lid. The containers and their lids all nest and lock together for easy storage. Container sizes range from 1 to 12.5 cups.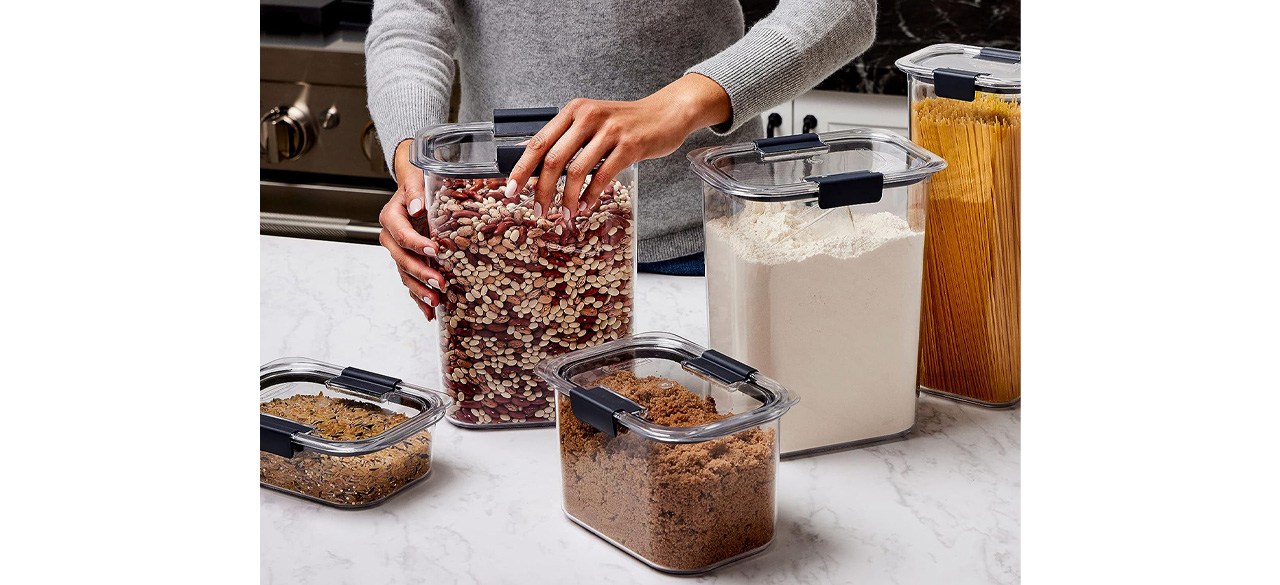 Rubbermaid Brilliance Food Storage Containers with Scoops
Made from crystal-clear BPA-free plastic, these containers resist odor, stains and shattering. The set includes six different sizes of rectangular containers, along with latching lids, plus two 0.5-cup scoops for flour, sugar or cereal.
Want to shop the best products at the best prices? Check out Daily Deals from BestReviews.
Sign up here to receive the BestReviews weekly newsletter for useful advice on new products and noteworthy deals.
Laura Reed writes for BestReviews. BestReviews has helped millions of consumers simplify their purchasing decisions, saving them time and money.
Copyright 2023 BestReviews, a Nexstar company. All rights reserved.