Tonight: Showers and storms will move into the area this evening and tonight. Most of the rain will clear from west to east by sunrise. Some rain may be on the heavy side and lead to localized flash flooding. There is also the chance for a few strong to severe storms tonight as a warm front lifts to the north. Strong wind gusts, flash flooding, and brief tornadoes are all possible. Morning temperatures will be in the 60s.  
Black Friday: Rain should clear the area by sunrise, but there will still be the chance for a few showers during the day. If you're planning to hit the shops, just pack an umbrella! It will be mostly cloudy with highs in the 60s and 70s. Rain may return to the area Friday night.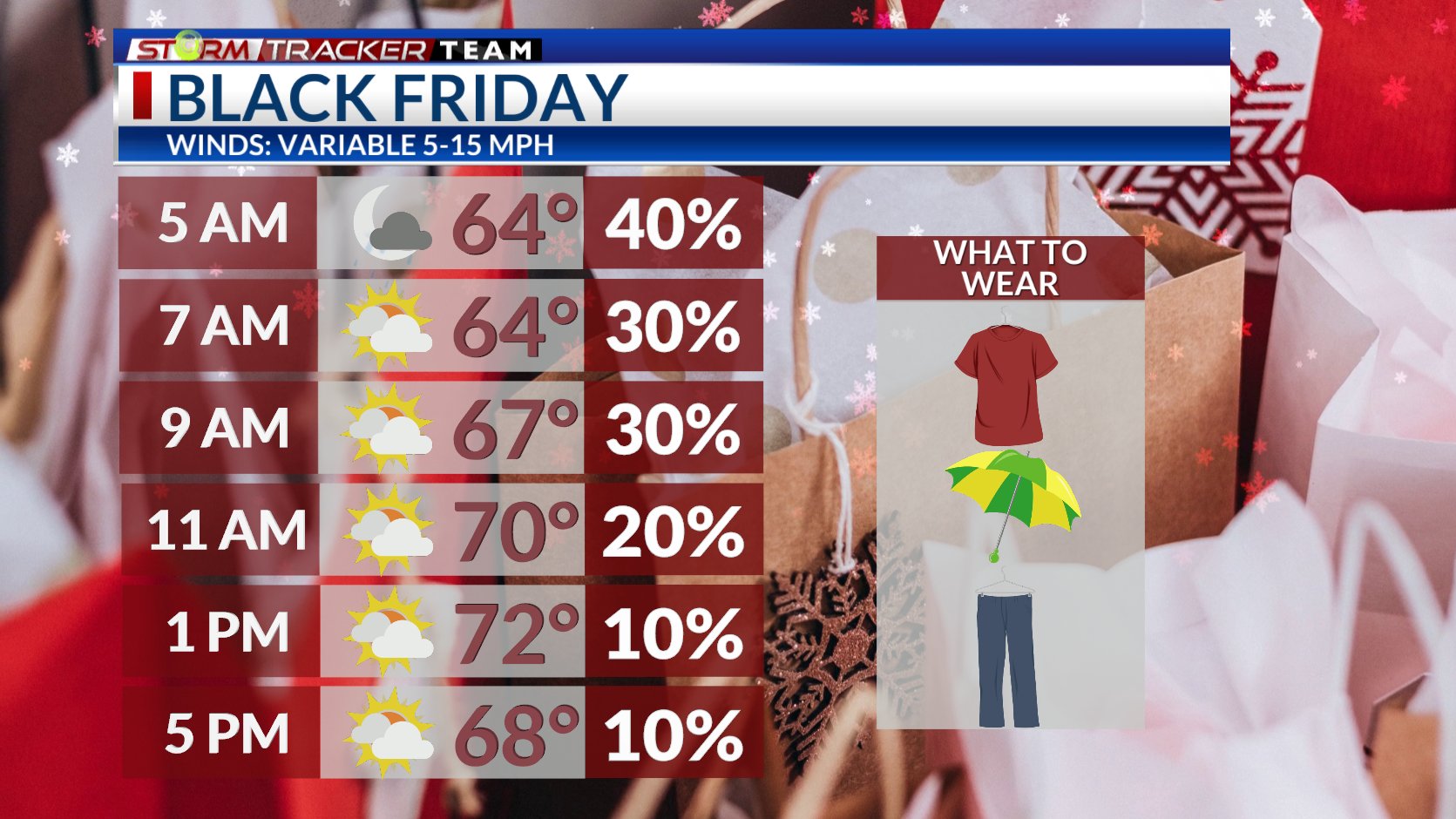 This Weekend: The storm system will move slowly through the region and as of Thursday evening, storms look increasingly likely Saturday, especially as a cold front moves through. Best chance for rain may come by midday and last through the evening. A few storms may be strong to severe. Rain totals through Saturday night may be 2 to 4 inches with locally higher amounts. Sunshine returns on Sunday. Sunshine returns on Sunday and high temperatures will be near 70 degrees. Overnight temperatures will be in the 40s and 50s.
Next Week: Temperatures will stay on the mild side next week. Next chance for rain will come on Tuesday and Wednesday. We may need to watch out for strong to severe storms and heavy rain again. Cold front will knock our temperatures back down into the 60s temporarily.
How to Prepare: Be sure you have ways to receive weather alerts. Secure any loose outdoor furniture and decor. Be cautious when driving in rain and storms. Always avoid flooded areas!
You can always check out the Interactive Radar here.
For the latest forecast information, check out our weather page!
Remember that you can download our weather app. It's available to download now in the App Store and Google Play. Just search for "BR Proud Weather".
Be sure to follow the StormTracker Weather Team:
Chief Meteorologist Ashley Ruiz – Twitter | Facebook
Meteorologist Jay Martin – Twitter | Facebook
Meteorologist Brandon Lashbrook – Twitter | Facebook